Ultrafab's Value-Added Test Lab Service
In our constant quest for quality assurance, Ultrafab offers a value-added, state-of-the-art test lab service free-of-charge to our customers. Our test wall capability performs air resistance testing and simulates wind-driven rain. The wall is made from corrosion-resistant aluminum, stainless steel, and polycarbonate, and it can be used to test air leakage and water penetration in a product.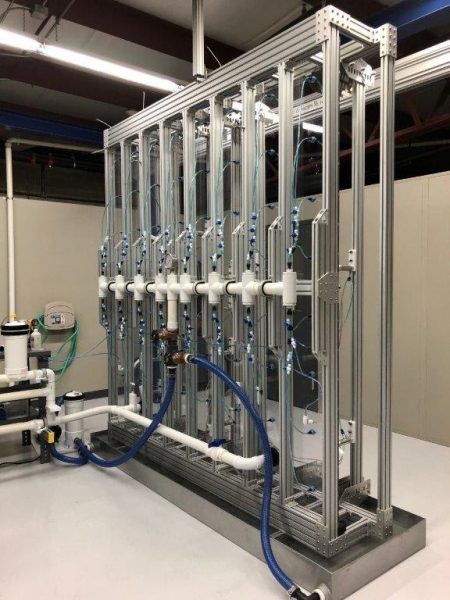 Achieve the best possible performance for your doors and windows
Save time and money by pre-testing your products
Ensure your product can stand up against wind-driven rain, air infiltration, and long-term exposure issues
Receive additional support in gaining desired performance ratings prior to certification testing
Test in accordance with widely-accepted testing standards including ASTM E283, ASTM E547, and ASTM E331
Test samples up to 96" wide by 96" tall
Quick turnaround with quick-setup gasket and pneumatic clamping system
Completely non-destructive testing so samples are returned in their original condition
Test with a wide range of protocols, procedures, and methods outlined by industry-standard organizations such as AAMA, ASTM, WDMA, and Fenestration Canada
Ultrafab Test Lab Additional Benefits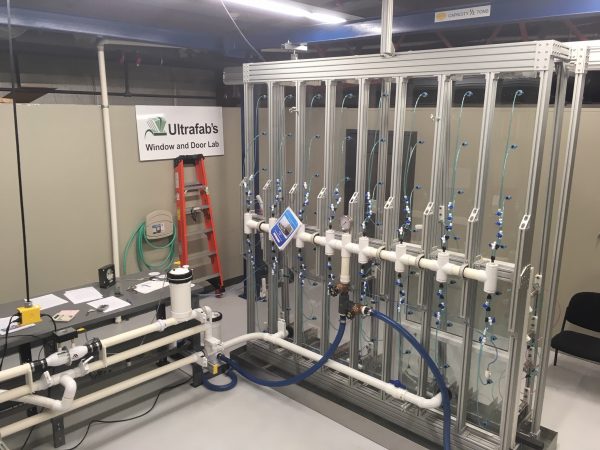 Non-Destructive Testing
With an aluminum conveyor roller system, the test station ensures that samples are safely and easily loaded and unloaded onto the test wall stage, which can accommodate samples up to 96" wide by 96" tall (2438 mm wide X 2438 mm tall).
Quicker Turnaround Time
The wall's unique gasket and pneumatic clamping system eliminates the need for wooden test frames, commonly referred to as wooden "bucks" in most cases. This helps to facilitate a much quicker test turnaround time, giving us the ability to normally begin testing a product the same day as a pre-planned delivery.
Service Designed to Save You Money
In the long run, testing your products at this stage allows you to get the product to market faster, save money, and maximize your time.
Air and Water Testing Suggested Sizes
PRODUCT TYPE
PERFORMANCE CLASS
SIZE (W. X H.)
Double/Single Hung
Double/Single Hung
Residential
Light Commercial
1000 mm X 1600 mm
1100 mm X 1900 mm
Horizontal Sliding
Horizontal Sliding
Residential
Light Commercial
1600 mm X 1100 mm
1800 mm X 1400 mm
Casement
Casement
Residential
Light Commercial
600 mm X 1500 mm
800 mm X 1500 mm
Awning/Hopper
Awning/Hopper
Residential
Light Commercial
1200 mm X 400 mm
1200 mm X 800 mm
Sliding Door
Sliding Door
Residential
Light Commercial
1800 mm X 2000 mm
2200 mm X 2100 mm