Window/Door Prototype Pretesting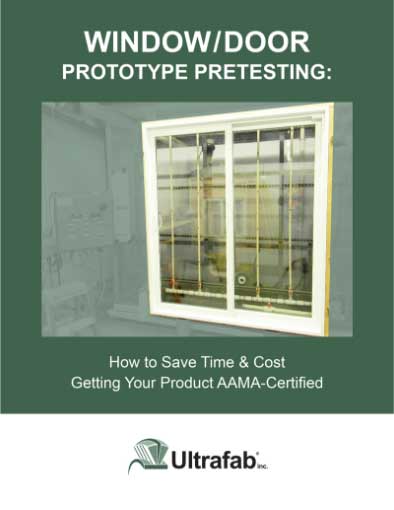 As design engineers know, all windows and sliding glass doors must be tested to receive AAMA certification. If it's not up to standards, trying to get your product AAMA-certified can cause a significant loss of time, money, and frustration. Failing to meet AAMA standards will force you to go back to the drawing board and spend more time on redesigns. But will your redesigns pass a second AAMA-certified test? If it doesn't, can your company afford to pay and wait for a third AAMA test?
One way window and door OEMs are able to secure AAMA certification faster and at lower cost is by pretesting their product with a subassembly vendor. Subassembly vendors are experts at producing high quality materials that meet industry standards. As a weatherstripping and sealing solutions provider, Ultrafab offers customers prototype test lab services. To share more about this competitive advantage, we've created a free resource.
Download the resource to learn:
How to reduce cycle time by avoiding MULTIPLE AAMA-certified tests
How to save total cost by improving sealing solutions at a vendor's test lab
How we tested a customer's sliding glass door air infiltration, water penetration, and operational forces to AAMA standards for improved performance (case study)
Please note that we are sensitive to honor those who trust us with their email information. We will never sell your personal info, send you spam, or overstay our welcome. We will only send you information that may be of interest to you, and you will always have the option to unsubscribe if you wish.