Ultrafab Solves Customers' Challenges with New Ultra Bend
Return to

Blog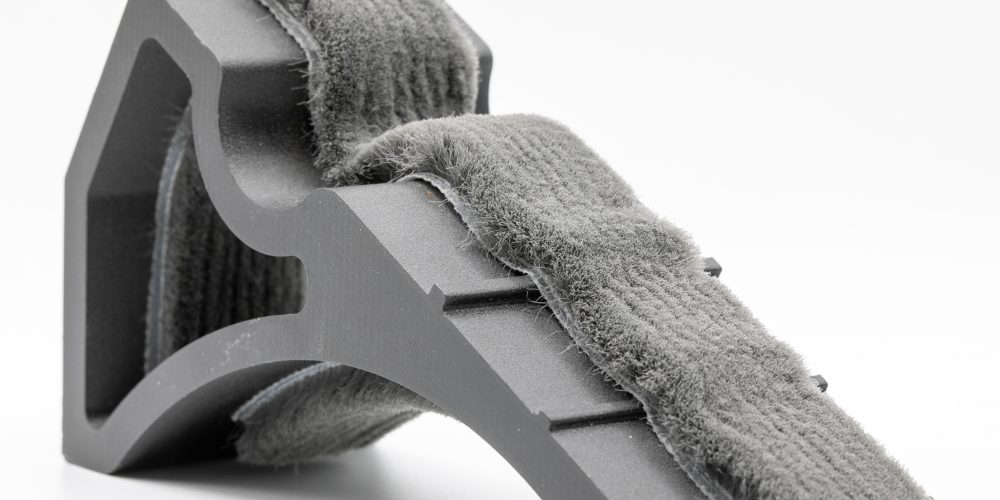 The New Ultra Bend
Ultrafab continues to produce unique products that satisfy their customer's needs. The newest addition to the Ultrafab product suite, the Ultra Bend, is a flexible-backed dust plug that boasts a 360-degree wrap, non-oriented design, and premium adhesive. It was designed to solve common challenges associated with dust plugs and to improve dust plug performance.
"The Ultra Bend, our premium dust plug option, offers superior performance thanks to its features and benefits," commented Dave Loughney, Product Application Engineer. "The Ultra Bend offers the next level of performance."
The most obvious and useful feature of the product is its ability to take on contours and inconsistencies. It can be seamlessly wrapped around sharp angles and radii to provide superior air and dust infiltration protection.
"Our standard dust plug is rigid; most plugs on the market are very rigid," said Kris Roof, Specialty Products Sales Manager. "Because of its ability to contour to any surface, the Ultra Bend does not compete with our other plugs. Its premium features make it the best option on the market."
Solving Traditional Dust Plug Problems with Ultra Bend
When a dust plug is used in an application such as a door jam, it will eventually peel and break over time because it does not want to conform to the welds. When Ultrafab noticed that most of their clients were facing this problem, they developed the Ultra Bend to help window and door manufacturers improve their products' longevity.
The Ultra Bend solves this problem with two features: its ability to conform to irregular shapes for longer periods of time and its premium PSA adhesive that has pull forces 300% better than standard dust plugs.
In isolated tests against air infiltration, the Ultra Bend performed an average of 100-250% better than standard dust plugs. The dust barrier features a very dense design with tightknit fibers that allow it to be placed in any direction and deliver the same performance.
"In window and door, there is a standard application for dust plugs," commented Joette Coriddi, National Sales Manager, "so customers who have switched to the premium Ultra Bend have switched for the adhesion and the nonoriented design."
The product also aims to decrease labor time and costs with its nonoriented design and quick-release liner. In tests, the plug was found to be able to save up to 60% of labor time.
Unique Advantages for OEMs
Although the new product will be excellent for window and door manufacturers, its features are also ideal for other applications.
"When a company develops a new product line, they usually design it to solve only a couple of little problems," commented Loughney. "When we developed the Ultra Bend, we designed it to do a whole slew of things for many different market segments. The amount of problems the plug can solve is endless."
The plug can be used for sound and vibration dampening, light-filtering, friction reducing, and dust blocking. It is lightweight, high density, and can be wrapped externally or internally on an application.
"With the unique characteristics of the Ultra Bend, it can be used as a replacement for foam or other materials," adds Roof.
The Ultra Bend is ideal for the window and door, HVAC, lighting, medical imaging, printing, and kiosk industries. It is available now in cut-length pieces and linear on a reel. Ultrafab is working to add additional product features, encompassing more of what the industry demands. These improvements will offer an even better version of the new product soon.