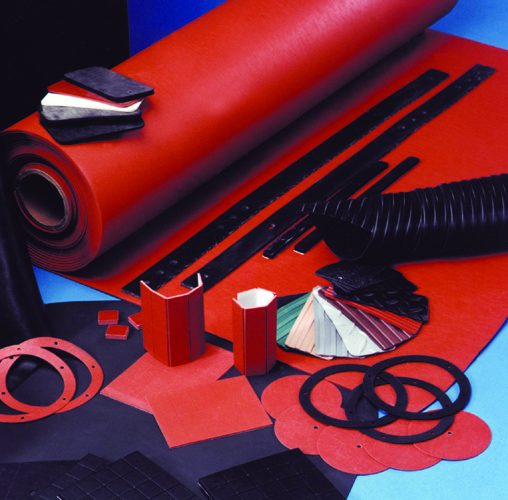 What are die cut gaskets and how can they serve your application? Die cut gaskets function as a seal between two different surfaces. When enough bolt load creates a compressive force, a die cut gasket seals the gap between the surfaces. The seal also fills imperfections on the mating surfaces, which can solve potential design defects and application errors.
Industry Applications
Die cut gaskets can apply to a wide variety of industries and applications, including:
Controls, valves, bearings, pumps
Electrical, lighting, electronics
Agriculture, irrigation
Commercial
Pools, spas
Automotive
Plumbing
Medical
OEM
How to Choose Die Cut Gasket Materials
Review the considerations below before selecting a material for your die cut gasket. These will help you choose one that works for your application the first time around. Keep in mind that because OEM products are typically tested in labs, the actual field environments of your application need to be considered before a proper die cut gasket material can be recommended.
1. Will your gasket be exposed to high temperatures?
If your application will expose the gasket to high temperatures, you can easily narrow your material options. If your system operating temperatures are too close to the max continuous operating temperature of a die cut gasket material, choose the next best material.
2. Can your gasket handle application pressure?
Consider the internal fluid pressure of your application. You will need to choose a durable gasket material if your application uses extreme pressure.
3. Is your gasket material chemically compatible?
Consider the different gases and fluids your gasket will seal. Make sure the gasket material you choose is chemically compatible with all functions of your application.
4. What are your specific application requirements?
Consider the number, size, and grade of bolts that create compression on the surface area of the joint your gasket will seal. There may be a specific gasket material that best accommodates your application.
Material Options
Die cut gaskets can be made from any material with quick cut options. Most sealing providers offer material in sheet or roll form. We manufacture single die cut gasket prototypes up to full scale, large production runs. Some gasket material options may include: compressed sheet gaskets; cloth inserted gaskets; fabric; paper; felt; adhesive backed material; air filter; chipboard; cloth; textile; corrugated; electrical / electronic; insulation; fiberglass / fiber; film; fishpaper; foil; industrial; medical; neoprene; non-metallic; plastics; vinyl; compressed sheet; viton; flexible graphite; ethylene propylene; nitrile; sheet stock, cork.
Types of Die Cut Gaskets
Here are some examples of die cut gasket types and how they benefit certain applications.
Rubber gaskets (ideal for sealing water)
Metal gaskets (ring joints, camprofile, metal jacketed)
Spiral wound gaskets (ideal for high temperature & high pressure applications)
Compressed sheet gaskets / PTFE / fiber reinforced / flexible graphite (ideal for low–medium pressure applications)
How Are Die Cut Gaskets Made?
Similar to the cookie cutter process, die cutting gaskets is a precise process that uses tight tolerances and exacting standards to create identical sealing solutions. A shaped knife (or die) cuts into a sheet of gasket material and presses its edge into one or more layers of sheeting by the use of hydraulic or mechanical presses.
While this is the most common way to make a die cut gasket, there are a variety of other processes that can be used depending on spec and budget. Some include: flatbed die cutting, rotary die cutting, water jet cutting, flash cutting, and stamping.
Ready to Meet Compliance & Expand Market Reach?
Are the materials you currently use able to get your product to meet compliance and penetrate new market segments? If your answer to this question is important to you, please contact us. During our conversation we can discuss the feasibility of meeting compliance, potential new markets for your product, and if we are the best fit to equip your product with a new sealing solution.