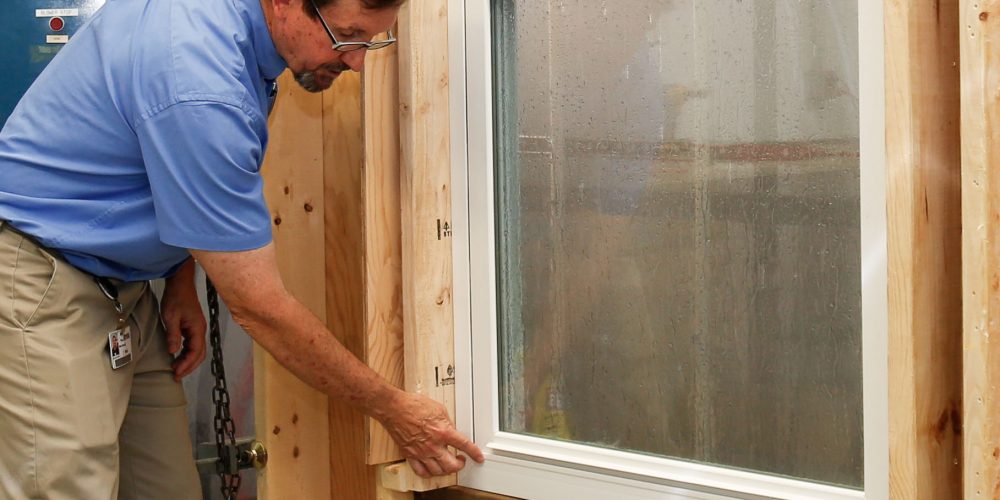 In order to design fully-functional window products that beat out the competition, it's important to understand some details behind window weather stripping. Weather stripping (also: weatherstripping) is the system that seals window openings to keep weather conditions outside. We also use the term to describe the actual materials used to implement these sealing systems.
Window Weather Stripping Objectives
The objectives of weather stripping is related to moisture, air, and even window operation. Weather stripping stops external rain/moisture from penetrating through window openings and into a building by rerouting the water. It also aims to contain interior air for comfort and to save energy on air conditioning and heating. Last, weather stripping material can be used to improve the operational force (opening and closing) of a window.
Window Applications
Window weather stripping is used to seal all sides of a window. Window tops and sashes might feature metal caps that force rainwater to drip off and away instead of infiltrating a building. Window sides and sashes might also feature gasket or foam weather stripping (which also helps to contain air and optimize operation). Materials for this kind of weather stripping include vinyl, vinyl tubing, rubber, EPDM cellular rubber, felt, poly foam, aluminum, or brass (similar to materials used in door weather stripping).
Other Applications
Obviously, a window isn't the only application that can benefit from weather stripping. Other applications include doors, cars, boats, and planes. Let's take a closer look at the one that's most similar to window weather stripping.
Door Weather Stripping
In some zones, building codes actually require doors to be weather stripped (including outside doors and ones that lead to attics and other uninsulated rooms). Similar to window applications, door weather stripping functions to keep weather OUT and interior comfort IN. It also helps to reduce noise and utility bills. An objective for door weather stripping is to manage the gap between the threshold of a room and door. To match the door to the threshold, a door sweep is applied to the weather stripping at the bottom of the door.
Private homes might require pre-weatherstripped doors. This type of weather stripping tends to be made of fiberglass shipped from a weather stripping factory. On these doors, the door stop might feature a kerf so that a rubber, vinyl, or foam strip can be positioned inside the door to rest against when closed. They also feature a threshold made of molded plastic, which is nailed to the frame.
Compared to pre-weatherstripped units, custom weather stripping is considered a specialized process. This is due to the extra cycle time and because weatherstrippers have to cut the door, apply a sweep to the bottom, install a threshold, and seal the gap by nailing spring-steel bronze into the door jamb.
A building's energy efficiency and temperature comfort depend on door weather stripping. Weather stripping is especially important for cold climate buildings that need to meet high standards for airtightness. Buildings that run on low-energy also need to meet special weather stripping standards. These standards are based on the alignment of the threshold, jamb gasketing, special synthetic rubber or silicone seals, and compression.
Need More Information?
We hope this brief guide on door and window weather stripping gives you actionable knowledge as you continue to build your window/door products. If you would like more information on the subject, please contact us. Or if you're ready to purchase weather stripping for your window or door, view our weather stripping products.
Posted on January 1, 2018