Ultrafab Product Categories
Meeting Your Needs
Ultrafab has extended its renowned quality into extruded products and services to better serve customer needs.
Ultrafab's extruded components are manufactured to meet or exceed your needs and expectations. Our high quality products offer:
Physical stability with unmatched adhesion between the TPE bulb & the polypropylene base
Excellent compression set resistance and low closing forces
Excellent weatherability, UV resistance and chemical resistance
Superior color consistency in 5 standard colors, Black, Brown, White, Tan, or Gray, custom colors available
Positive retention in kerf-mounted applications
Proven automation systems for bulb seal insertion
Review our UCx Standard Offerings >
Engineering
We work directly with your designers, engineers and manufacturing personnel to reduce product development cycles, to improve product performance and to provide cost effective solutions. Our goal is to help your new products get to market on schedule and within budget. Our CAD-based systems allow us to work with you via: fax, the internet, flash media.
Material
Ultrafab has the ability to process a wide variety of materials with a wide range of physical, mechanical and chemical properties. We will work with you to produce the most cost effective solution for your application requirements. Commonly used materials include:
Rigid PVC Exterior Grade for weatherability, impact resistance and long-term durability
Flexible PVC Exterior Grade for economical sealing, capping and coextruded applications
TPE's (Thermoplastic Elastomers) for high performance sealing and retention
Polyolefins for adding rigidity to TPE seals and coextruded products
Filled Polyolefins for high stress, high heat and superior chemical resistance Engineered Resins for extreme applications (severe weather, high pressures, high load stresses, extreme heat)
Tooling
Ultrafab integrates CAD-based technology with multi-axis EDM machining centers to develop high quality extrusion dies at a reasonable price. Dies are designed and manufactured for high quality tight tolerances, excellent processing properties and long life. Tooling is designed for efficient manufacturing which means more cost effective products for you.
Putting Our Resources to Work for You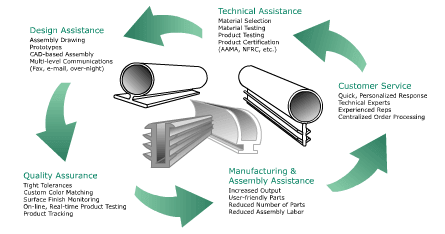 Standard Extruded Products
187″ and .270″ T-slot TPE (Thermoplastic Elastomer) bulb seals, .125″ to .600″ diameter
Kerf-mounted TPE bulb seals, .125″ to .500″
Polypropylene leaf seals
UltraGlide seals for sliding applications (low surface friction and unmatched wear resistance)
Kerf mounted pile
Custom Profiles
Ultrafab also offers cost effective custom profiles designed and extruded to meet your specific goals. Let us put our engineering expertise to work for you. We will assist you with everything from material selection and product design to value-added services and inventory to achieve the level of performance you desire at the right price.
Services
Ultrafab also offers the following services:
In-line cutting, punching, taping and marking
Off-line cutting, punching, taping and marking
Other secondary operations, including assembly
Welded gaskets (TPE, FPVC)
Bulk packaging
Specialty packaging
Labeling and bar coding
Custom color matches
Prototype design and testing
Color coding
Adhesives: Foam / PSA
To reduce your lead times and inventory levels, Ultrafab has warehouse locations strategically located throughout the U.S.
TO ORDER: See Part Ordering Specification Sheet.
Ultrafab's line of standard weatherseals are designed and manufactured to meet the requirements of AAMA Specifications 701, or 702 where applicable. For applications that result in the weatherseal experiencing long-term direct exposure to the elements, standard products may not be adequate. Contact us for additional product options.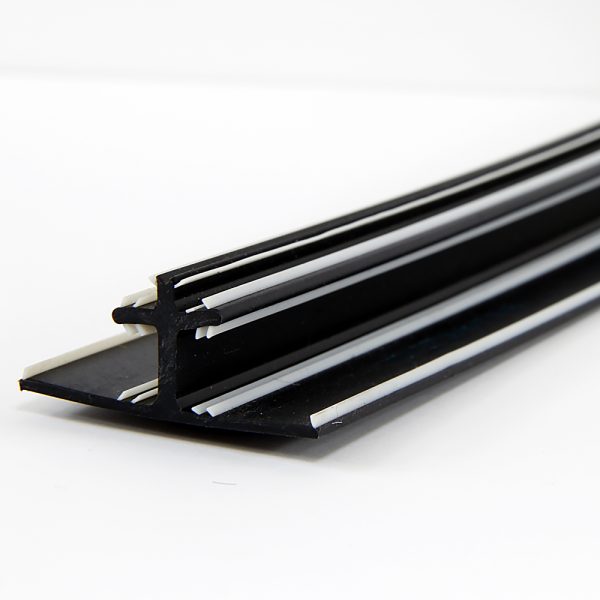 Need a More Custom Solution?
Custom designed tooling is the norm, not the exception. We offer custom extruded seals in multiple profiles and shapes with a wide variety of material configurations.
View Custom Plastic Extrusions
Extrusion Seals
Looking for something else? Need something you don't see? Ultrafab offers a wide range of products beyond those shown here. Contact us for more information.
Be the First to Hear About Our Latest Innovations
Sign up for our email list