Ultrafab Product Categories
Looking for something else? Need something you don't see? Ultrafab offers a wide range of products beyond those shown here. Contact us for more information.
Ultrafab industrial brush seals (or skirting seals) are designed to meet the demands of the most damaging high traffic industrial or commercial applications – whether they use extruded sealing or brush based elements. Our two popular industrial brushes include the Ultrafab® Q Series and Ultrafab® QD Series. These seals and sweeps provide you with the options you need to build a more efficient product at a reduced cycle time.
Description
Quick Features
Skirting seals and overhead/industrial door skirting seals are designed for the most demanding industrial and commercial applications
Optional welded-on plastic tab eliminates the need for the aluminum mount
Square backed skirtings are ready to use with aluminum mounting
Ultrafab® Q Series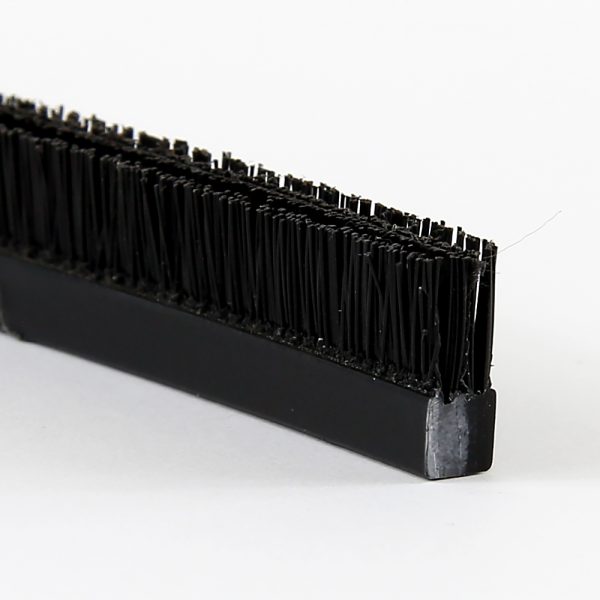 Square or diamond based strip brush
A totally robust seal that uses compacted fibers and Ultrafab's unique pile directors to build an extremely durable, cost effective product. Our unique ultrasonic welding assembles the fin, fibers, and backing into an integrated, unified assembly that won't break apart during fabrication or while in use.
Q Benefits
Guaranteed uniform pile height and backing widths due to unique non-woven manufacturing system
Compatible with mounting applications when welded to a polypropylene backing strip
Assures a tighter seal and barrier against air and water infiltration when pile seals use round yarns for optional structural integrity and consistency
Reduced dirt, water, and air infiltration with brush seals
Eliminate the need for metal backed products with diamond base skirt weatherseals configured to your specifications
Q Specs
Materials: standard polypropylene (fins optional), nylon backing or filaments with monofilaments or yarn options
Colors: black, white, gray, brown, beige
Ultrafab® QD Series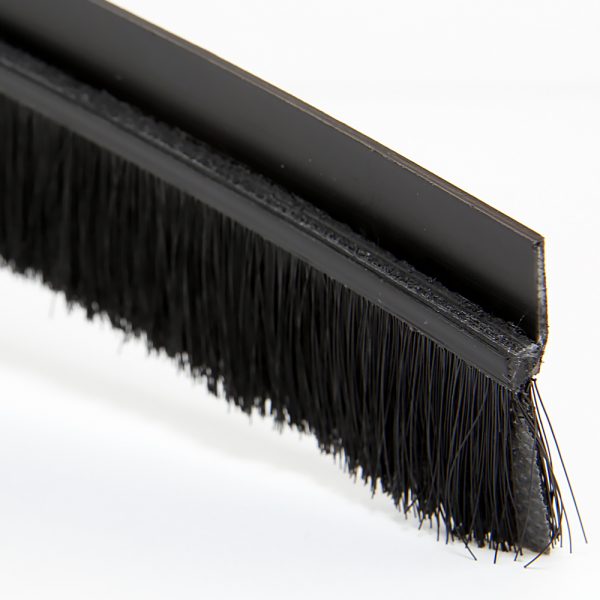 Industrial or Commercial Sweeps and Seals
Eliminate the need for an aluminum extrusion with an integrated plastic mounting tab that provides full flexibility for ease of assembly and overall reduction in shipping costs.
QD Benefits
Easy mounting with available stamped holes or adhesive
See industrial brush seal advantages below for complete list
QD Specs
Materials: standard polypropylene, nylon backing or filaments with monofilaments or fin options
Colors: black, white, gray, brown, beige

Industrial Brush Seal Applications
Doors
Overhead retractable door seal
Industrial double door seal
Mass transit door sweeps
Industrial door sweeps
Hanger door seals
Shed door seal
Barn door seal
Conveyance
Luggage conveyor edge seal
Industrial conveyor edge seal
Escalator edge seal
Automotive
Truck and trailer roll-up and over head doors
Industrial Brush Seal Advantages
Flexible Functionality
Customized sealing and endurance available when fin, yarn, and monofilament are combined or used individually
Maximized possible seal configurations when seal is welded directly to backing
Easy-to-penetrate mounting tab by standard screw, no pre-punched holes required
Tab welded skirting can bed along a radius for a complete seal
Unrestricted shipping length when shipped on a roll
Effective
Decreased friction and interference when fin is cut below media surface
Prevents dirt, water, and air infiltration with high density seals
Increased environmental sealing with available solid fin
Durable
Maximized resistance to compression when regular fibers are mixed with extra durable monofilaments
Long-term resistance and resiliency to environmental elements with added fins
Maximized resistance to compression with yarn and monofilament hybrid
Each fiber individually welded to the backing to eliminate pull-out
Chemical resistant, non-corrosion
Industrial Brush Seal Specs
Up to 250ft can be conveniently transported and stored on a 17" diameter 26" x 26" reel
Polypropylene backing strip can be easily screwed or drilled through for mounting
Various fin thicknesses and configurations available depending on application
Seal height customizable from 0.25" to 1.90"
Welded mounting tab of 0.850" or 1.125"
Media color options: black, white, grey
Backing color options: black, white
Customizable sealing media
Square backed brush seal
All plastic
Ready to Get Started?
Let us help design your seal. We will work with your team on-site to design a seal that meets the application requirements. Contact us so we can provide your best-fit solution.
Be the First to Hear About Our Latest Innovations
Sign up for our email list