Ultrafab Product Categories
We work with OEMs to reduce cycle time and material cost on their office equipment applications by engineering specialty brush and sealing products.
Active Cleaning Brushes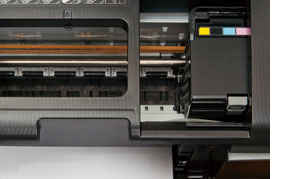 Custom designed brushes are used to prevent build up of paper dust, ink residue, talc and other contaminants in an office environment that can reduce the performance of printing equipment.
Common Applications Include:
Paper pick and feed roller cleaning brushes.
Pen head scrubber brushes.
Wipers for optical feed and position sensors.
Toner removal brushes.
Fiber texture, type and density can be adjusted to provide an aggressive or fine cleaning mechanism to suit a wide range of surface conditions. Secondary assembly and integrated mounting configurations are also available to reduce cost and increase throughput.
Toner Seals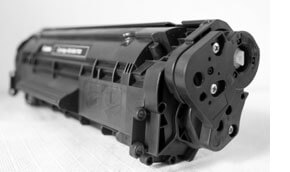 Toner seals provide superior performance when compared to using standard brushes in a toner cartridge assembly.
Swept direct of fibers helps retain toner particles more easily, thus enhancing image quality.
Low friction materials provide less resistance against feed rollers, or photoreceptor drums.
With a varied range of thicknesses to choose from, a custom configuration can be designed to provide the proper gap sealing for any design.
Roller Brush Assemblies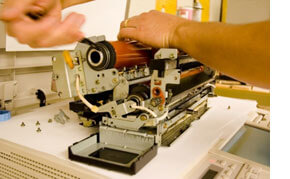 Roller brush configurations can be developed for mechanical systems within photocopiers and toner printing units for static elimination, OPC charging, toner removal or cleaning, as well as acting as a transfer brush during the printing process. High grade materials are used to ensure proper functioning whether a specific charge, resistance or low friction configuration is required.
Brushes to Eliminate Static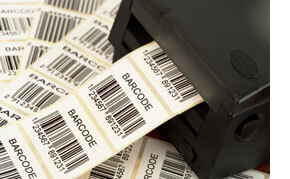 Custom designed ESD brushes can be designed to remove static charge during the printing process or during post processing such as stacking, folding or binding.
Common Applications Include:
Feed tray static elimination brushes.
Static elimination in thermal label and receipt printers.
Kiosk / POS card swipe assemblies.
ATM printers and cash dispensing assemblies.
Extruded Enclosure Components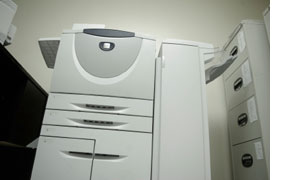 Custom extruded seals can be manufactured to print for any design utilizing a wide range of materials and configurations, including co-extruded capabilities which incorporate multiple materials, as well as the ability to combine with our brush technology.
Common Applications Include:
Drawer slide assemblies.
Paper tray enclosure compression and leaf seals.
Kerf, dart or clip mounted pile seals.
Edge and corner trim for sheetmetal edges.
Be the First to Hear About Our Latest Innovations
Sign up for our email list